How Lifeline is Making Cell Phones and Internet More Affordable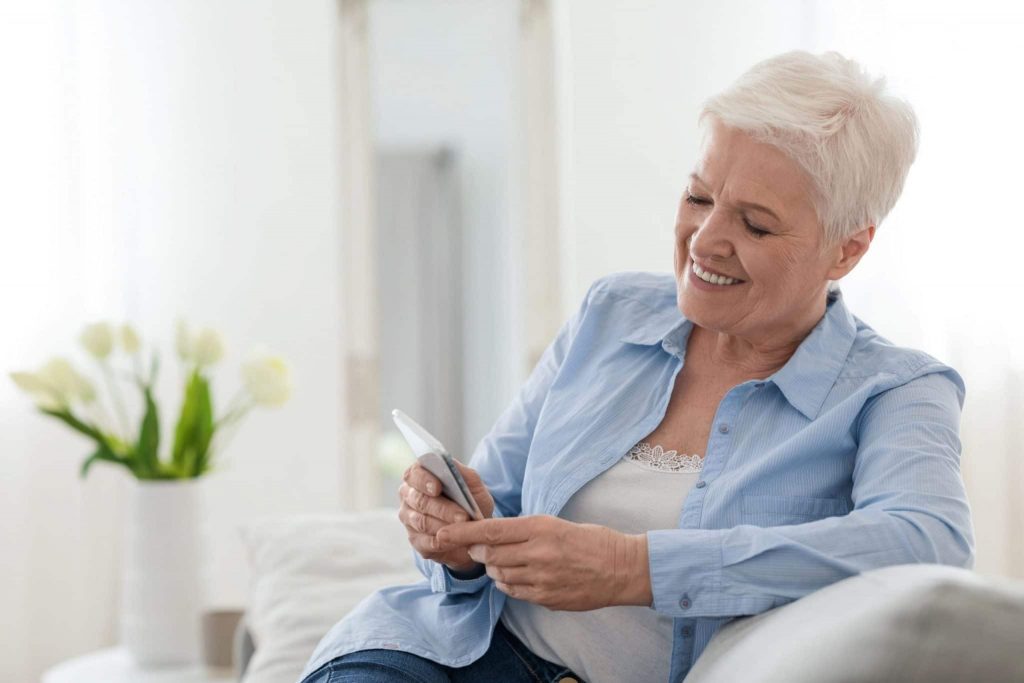 Broadband (high-speed) internet access is vital for completing daily tasks such as learning, doing homework, working from home, job hunting, banking, and receiving remote health services. Without being "connected," it is almost impossible to complete the necessary tasks of daily life. Calling a doctor, getting a call from an employer, participating in a "Zoom" meeting, or having lessons at home during the pandemic. All of these and many more activities are dependent on having a good phone and internet service.
Communication is the foundation of any modern civilization, and what could be better than letting everyone communicate freely and at a lower cost? As a federal initiative, the Lifeline program aims to make wireless and landline telephone communication, as well as voice-broadband bundled services and broadband internet, more affordable to low-income areas across the country.
What is the Lifeline Program?
The Federal Communications Commission (FCC) offers the Lifeline program, which provides discounts on phone and internet service for eligible consumers. This is to ensure that low- and moderate-income households have access to these important services despite financial hardships.
The FCC launched Lifeline in 1985 to offer low-income Americans a chance to afford telephone service. The program has been expanded and changed numerous times, including by President George W. Bush in 2005, when he expanded it to include cell phones. Lifeline has recently expanded to include broadband services, and there have been attempts to address the program's long history of fraud allegations.
How Does the Lifeline Program Work?
Based on household income and size, the Lifeline program offers a discount on phone or internet service. As long as they meet specific income limits, it is available to qualifying low-income subscribers in every state, territory, commonwealth, and tribal area in the United States. To be eligible, a household's income must be less than 135% of the federal poverty line, and each household can only have one phone or internet subscription. The monthly phone service discount is usually $9.25.
Consumers must first apply for the program and then enroll with a phone or internet provider that offers the benefit. On Lifeline-supported devices, companies have to meet specific standards, including:
The number of usage minutes allowed,
Specified mobile and home internet speeds,
The feature of a hotspot-enabled device.
The Universal Service Administrative Company (USAC) manages the Lifeline program. The organization also administers many other federal programs, like maintenance, data collection, and disbursements for lower-income programs.
The Lifeline Program's History
As we mentioned before, the Lifeline program's main goal is to offer lower-income people more affordable communication services. It is not a new concept, but it is founded on the principle of guaranteeing that all Americans have inexpensive access to communication services.
The Postal Service Act of 1792, for example, committed the federal government to creating a universal postal service that all Americans could use and afford. Later, the same notion of equal and affordable access was applied to radio and, eventually, telephone communications. AT&T announced the "Kingsbury Commitment" in 1913, promising to provide "universal service."
The Communications Act of 1934 officially established the concepts of universality and affordability. The FCC was formed under Section 1 of that act to make "a rapid, efficient, nationwide, and worldwide wire and radio communication service with adequate facilities at reasonable charges available…to all the people of the United States."
The split of AT&T in 1984, however, provided an immediate foundation for the Lifeline program's emergence. The Reagan government broke up AT&T's monopoly on telephone services in the United States as part of its plan to enhance competition in the telecommunications sector.
Nevertheless, there was still concern that telephone service rates might grow beyond the means of some people. Thanks to the broad powers provided by the 1934 Act, the FCC was able to set up the Lifeline program in 1985, which subsidized the cost of telephone services for low-income people. The 1996 Telecommunications Act made participation in the Lifeline program mandatory in all states.
Not Everyone Was Ok With This Program…
Most government aid programs cause controversy, but few have generated the level of intense resistance that the Lifeline program has. According to the Washington Post, the most recent flare-up of this issue happened around 2015, when some protesters agitated against what they inaccurately referred to as "Obama phones"—cell phones that the federal government paid for under a scheme the protesters said had minimal supervision. In reality, President Bush was the one who introduced cell phones to the program, and the Federal Communications Commission had already addressed some of the opponents' concerns.
Because of the federal government's subsidy, many cell phone carriers were able to offer services to users at almost no cost, as long as they could demonstrate that the customers had a low enough income. While this helped millions of Americans who otherwise would not have been able to afford a cell phone service, it also meant that the cost of the assistance program skyrocketed.
There was also widespread concern that some people were abusing the program by committing fraud. The FCC responded to these claims by issuing a Lifeline Reform Order in late January 2012. This order effectively required all Lifeline customers to provide proof of their stated income.
According to an interim assessment on waste, fraud, and abuse in the Lifeline program by the Democratic ranking member of the U.S. House of Representatives Committee on Energy and Commerce, Frank Pallone, Jr., the order resulted in savings of over $1 billion by 2016.
The Modern Lifeline Program
Building on those early adjustments, the Lifeline program has undergone two improvement processes: one to align the subsidies it provides with evolving technologies, and another to tackle ongoing fraud allegations.
Reforms in Technology
As for technological reforms, the most significant change to Lifeline has been the expansion of coverage to include internet services. Since 2005, several analysts have argued for this move. They have been claiming that an internet connection is just as crucial to most Americans as a telephone service. The FCC did not add a provision to Lifeline until 2012, allowing applicants to use their subsidy to pay for broadband services.
In 2016, a more fundamental adjustment to the program was implemented following that reform. Then-FCC Chairman Tom Wheeler said in a statement announcing the change that "64.5 million Americans are missing out on the opportunities made possible by the most powerful and pervasive platform in history" and that the FCC had a responsibility to solve the problem.
As a result, under Wheeler's leadership, the FCC refocused Lifeline funding on broadband. This way, low-income Americans were able to use their subsidy to pay for broadband. At the same time, the FCC announced additional measures aimed at fighting fraud in the program. In addition to a bidding procedure to push broadband providers to provide low-income consumers subsidized packages.
Preventing Fraud
The FCC has long worked to reduce the program's vulnerability to criminal interference in regard to fraud.
Under FCC Chairman Wheeler's leadership, a new system was created in 2016 to verify applicants' identities and income levels. The Lifeline National Eligibility Verifier (National Verifier) determines whether or not new applicants are qualified for Lifeline. This method is expected to become the only way to access Lifeline, with service providers using the National Verifier when serving people who apply.
In 2017, FCC Chairman Ajit Pai started an inquiry to reduce the cost of the Lifeline program. That inquiry involved removing assistance for broadband services so that criminals could not take advantage of it. Moreover, Chairman Pai suggested new standards in August 2019. That was to ensure that carriers enrolling customers in the program could demonstrate that an individual was still alive.
What is Next?
Today, the Lifeline program offers qualifying low-income people across the United States broadband and cellular subsidies. Generally, customers have access to these funds through their broadband provider, which can help them use the National Verifier system.
Considering the Lifeline program's history, it seems unlikely that it will remain in its current form for long. Some experts are already asking for additional reforms in light of the government's response to the pandemic. They say that the majority of Americans now get their internet from their phone carrier. They also think that the current difference between cell phone plans and broadband is becoming increasingly illogical.
However, for the time being, the Lifeline program is exactly what its name implies. It is an essential subsidy that offers greater access to both Internet and cellular services.
The Lifeline Program During The Pandemic
In order to help people stay connected during the pandemic, the FCC has temporarily waived some procedures. It has extended the following waivers until June 30, 2022:
Recertification,
Re-verification,
General de-enrollment,
Income documentation,
Documentation requirements for people living in rural areas on Tribal lands.
The FCC released the most recent waiver order on March 25, 2022. It will help make sure that the majority of current Lifeline subscribers are not involuntarily removed from the program during this time of national crisis.
The FCC has also made it easier for people who lost their jobs during the pandemic and are eligible for Lifeline assistance to participate in the program. On April 29, 2020, the FCC temporarily eliminated the requirement that consumers wishing to apply for the program based on their income provide at least three consecutive months of income proof.
Besides, on June 1, 2020, The FCC simplified the Lifeline service enrollment process for people residing in rural Tribal areas. These modifications will likewise be active until June 30, 2022.
Prior waivers of the Lifeline non-usage regulation were not extended beyond May 1, 2021, according to a waiver Order issued on February 24, 2021. In accordance with the Commission's standards, Lifeline participants who receive free service must actually use their service or risk losing the benefits of the program.
Who Qualifies For the Lifeline Program?
When it comes to eligibility, the National Verifier (NV) determines your eligibility based on either your income or the other benefits you receive. Only one Lifeline benefit is available for each household. The Lifeline program's definition of a household is anyone living at the same address who shares income and household expenses.
You should complete a Lifeline Household Worksheet in 2 cases:
When more than one subscriber at a single residential address receives Lifeline-supported service,
Or when a new consumer registers for service at an address where there is already a subscriber receiving the Lifeline benefit.
Service providers must use the National Verifier (NV) to determine consumer eligibility. However, there is an exception for California, Oregon, and Texas, which are opt-out states for the National Lifeline Accountability Database. Customers can also apply for the Lifeline program on their own through the NV.
Depending On Your Income
Customers may be eligible for the Lifeline program if their gross household income is at or below 135% of the Federal Poverty Guidelines. Check out this table for more information on the 2022 Federal Poverty Guidelines.
Depending On Other Benefits You Receive
Consumers may be eligible for the Lifeline program if they participate in one of the following qualifying programs:
Medicaid
Supplemental Nutrition Assistance Program (SNAP)
Supplemental Security Income (SSI)
Federal Public Housing Assistance (FPHA)
Veterans and Survivors Pension Benefit
The Lifeline Providers
The USAC has created a tool that can help you locate verified Lifeline service program providers in your area. Click here to find one by zip code, city, or state. Since not all providers are available in all places. Just make sure that the company you choose provides service in your area.
You can apply for the Lifeline program through any eligible Lifeline provider in your area. Because the company you apply with will be the one offering your service, you should look at a few websites to determine which one feels like the greatest fit for you.
Bottom Line
In short, it is no secret that the pandemic has made life difficult for many people. Household finances can feel the squeeze across the US, as people from all walks of life seek support and help. So, if you are looking for free phone service for low-income families, you should apply for the Lifeline program.